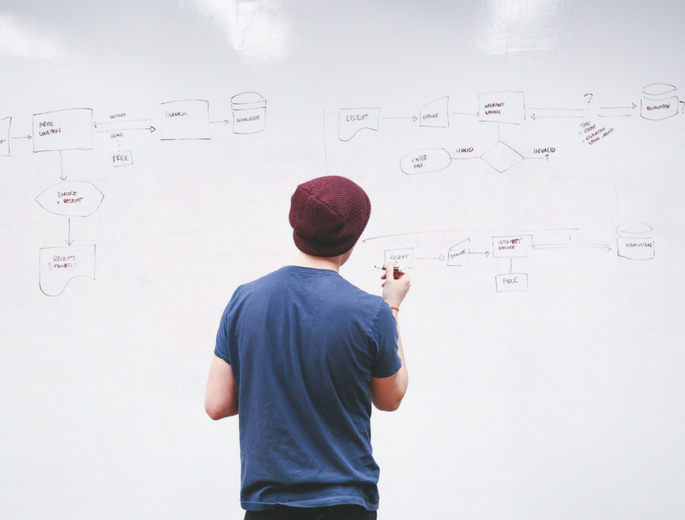 Bakersfield Startup is a local entrepreneurship meetup that focuses on helping and growing local entrepreneurs with their ideas and startups located at Mesh Cowork in Downtown Bakersfield, CA. At one of these meetings we had the honor of having successful bakersfield serial entrepreneur Gurpinder Riar speak on his successes, failures, advice, and journey as a local entrepreneur.
Forget what you know about Entreprenuership
When you think of an entrepreneur you might think of Jeff Bezos, Mark Zuckerberg, Elon Musk, or even Evan Spiegel; each individual created a startup which lead to them becoming the leaders of modern technology. It seems like these men are geniuses, who made the impossible possible. In fact, some may think that you need to be as brilliant as these CEOs. Perhaps they discovered an untapped method for success? Or perhaps, they possess the mental capacity of a modern day genius? The truth is that an entrepreneur can be anyone and anywhere. The real definition of an entrepreneur is simply a person who organizes and operates a business or businesses, taking on greater than normal financial risks in order to do so. So, you are an aspiring entrepreneur with an idea, perhaps you are limited in resources; living in a smaller town or location. Or maybe the case is you don't know where to begin.
According to Gurpinder Riar who goes by simply "G" being an entrepreneur is no easy task. In fact, it can be one of the most difficult things an individual can do, but also the most rewarding. If you start your business or startup, you must be prepared to fail. However, failure is not necessarily a negative thing. G emphasizes that "No such thing as failure, you either gain experience, knowledge, and wisdom or you succeed" In other words, you get more knowledge from failure than you do from success. Once you understand this as an entrepreneur you are ready to begin your journey!
Where do I start?
As an entrepreneur you must define what kind of business are you, service based or product based? In this article, we will focus solely on a service based business or startup. So you have an idea. Where do you begin? The first thing you need to focus on is your clients and customers. Who are they? Why would they purchase your service? What are they? You need to place yourself in the mind of your customers and validate your idea with them. This can be done through surveys and services like product hunt or Gofundme. Once you are 100% positive that there is a market and need for your business, you will need to develop your MVP aka your minimum viable product. Sometimes this requires money and finances depending on your business. Remember that the product or service needs to be viable in order to get money, you will need to learn how to propose it.
G states that you will need to develop THE most important skill in any business, "The number one important skill that you need to develop is people skills: learn to become outgoing, talk to people, this will be handy in order to convince investors, potential clients, etc" Once you have a market, you develop your brand, business model, and MVP you are ready to scout your first initial customers!
Happy customers equals business success!
As you grow your startup/business, especially when it comes to service based businesses you need to remember and keep in mind that Monetisation should be last. G recommends to "focus on customer needs first. Seek investment but don't monetise until you have a large enough user base." Your business will not be successful without your customers, treat them well and the money will come. Keep in mind that service does not cost anything, product costs something. If you can strategically use service to impress a large client, do it to the best of your ability. As your company starts to gain interest set up an email list, website, video etc explaining what you are all about. As you are going through this process you need to push, push, push your startup! This can mean advertising on social media, pushing it out on related websites, articles, channels, etc. Once, you build a big enough base of loyal customers you can begin to scale.
Work smart, work effectively
Scaling is absolutely necessary to increase the size and volume of your business. Scaling will increase revenue, clients, employees, etc. However, scaling will also require sacrifice such as more time, money, and resources as well. G states that "personal life should be taken care of first, business second; however sometimes sacrifices have to be made." If your personal life is suffering it will cause and effect the way you run your business as well.
A strategy that G wishes his younger self executed as he was starting up his business was this: When starting up, don't focus on multiple things. Take your time and focus on one or two tasks at a time, this is quality work over quantity which over the long run will serve you better. Which also means that if you are a serial entrepreneur and involved in multiple projects; Focus on one project at a time! You only have a finite amount of time, focus, energy, and resources. Allocate and focus your 100% on a project that you know will bring you success rather than 30% or 40%
Invest, Invest, Reinvest
Now money starts flowing in, what should you invest, allocate, and spend your hard earned revenue on? Reinvest in the business of course! The best way to effectively invest your money is hiring great staff and people with the same mindset as you if you can. Never underpay your staff because this can affect performance and your reputation. Instead, G emphasizes that your people are the lifeblood of your operation. "If an employee does a great job, don't hesitate to reward them!" This could mean a raise, benefits, and even a higher position. Remember that an employee will only be more loyal to you when you overpay them, NOT underpay them.
If you are running multiple businesses like G, create a sustainable checks and balances system. Hire great staff and create a management system within your organization and make sure to pay them well based on performance. Each business needs to have a specific system tailored to them. Now, if your business is not making money after a some years, it might be time to let it go. As an entrepreneur, you need to set boundaries and a point where you must decide if pursuing your business will be sustainable in the long run. G didn't make money for the first few years when starting his first business in Bakersfield, CA. However, he was certain that if he was patient, he would see a return. Entrepreneurs need to be tenacious, patient, and of course hardworking! Start locally, if you can make it in Bakersfield, you can make it anywhere.
How Gurpinder became a G
Gurpinder Riar aka "G" is the founder of Deprigo, a print and media agency firm in Bakersfield. He immigrated to Bakersfield at the age of 13 and attended the Academy of Arts University in San Francisco, CA. He has extensive experience in business management and has proven his entrepreneurship by starting up a multitude of his businesses. His businesses have spanned from restaurants and retail stores to e-commerce and startups. Along with Deprigo, he currently owns and operates several retail locations and e-commerce businesses in Bakersfield. G is exceptionally passionate about giving back to the community and successfully uses his businesses as platforms from which to do so. To support the community, G works with over 20 local and national non-profit organizations and currently sits on the board of Greater Bakersfield Chamber of Commerce, Bakersfield Marathon, and Kern County Law Enforcement Foundation.