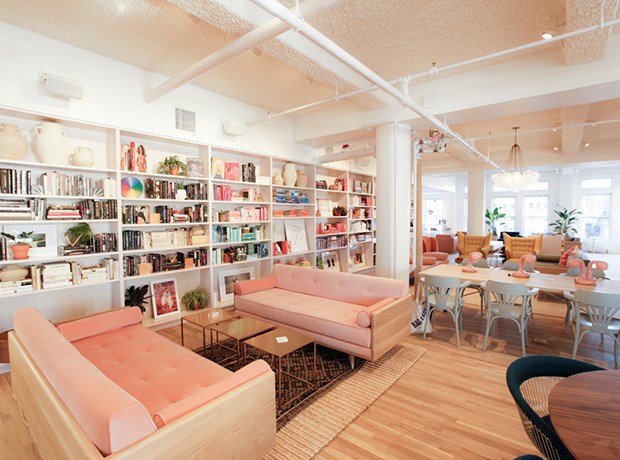 Working from home is hard. There are a lot of things that distract you from work and you start to really miss being around people. Enter your alternative, your escape. This could be a public area, like a coffee shop, library, or a coworking workspace. For many of us, the background noise of the coffee shop is the soundtrack to the working day. With WiFi, ready access to snacks, and endless coffee, it's obvious why coffee shops are the go-to for freelancing.
But if you can work from anywhere where there's an outlet, why limit yourself to your local café? With the pandemic, we've seen a dramatic change in how and where we do our work. For remote workers, that means finding decent alternatives to working from home and we're about to break down their pros and cons now.
The Coffee Shop
You start with grabbing a $5 latte and search for a seat at the café. It adds up. Those $5 lattes turn into a weekly bill of $60, and that's before you include the cost of your midday coffee cake. Let's not forget coffee shop etiquette. You can't babysit one drink for your entire workday. You should be grabbing a new paid drink or food item every 90 minutes. You're always gambling when you get there because sometimes it's packed and you have to head to another one, which cuts into your work time. At a coworking space, you can settle in with bottomless coffee (tea or water) for free. You'll have your choice of a variety of seating options and common areas to set you up for success for the day.
Finding privacy
In a café, you may need to shout on your business call to be heard over the others doing the same. At a coworking space, simply grab a conference room to take calls in a quiet, private space. You might not even be able to find an outlet. Charge-hungry freelancers grab any and all outlets like they're going out of style. Need to go to the bathroom? Coffee shops are the only place in the world where you'll confidently ask a stranger to look after your expensive laptop and headphones while you use the restroom.
Wifi
Coffee shops typically restrict internet speeds to ensure there's enough bandwidth to go around, so your coffee will be ice cold by the time that 5-gigabyte file has finished uploading. It's not secure. Unreliable WiFi? Goodbye. Find speedy and secure WiFi in every coworking space—some even have ultra-fast wifi. Printers are one of those things you don't realize you need until you need one. Every coworking location has printers for exactly this situation. Working in a café? Your best bet is to find a printer in another shop nearby.
Gathering the team
Ask your team to pull up a chair around a crowded table at Starbucks. Or, get some elbow room and work together by using a conference room or any other open, collaborative workspace.
Covid Rules
Many coffee shops have removed tables or taped-off chairs to keep customers socially distant and some don't even allow you to stay inside. Coworking spaces are considered an essential business, so you won't be turned away.
So where else can you go that provides free WiFi and a place to sit down? You've got a few options.
A restaurant

With table service, and as much food and drink as you need, your favorite restaurant can seem like the perfect spot to set up for an afternoon. As long as you're not taking up space during the lunchtime rush, many restaurants won't mind you work for a few after your meal, but most places will ask you to vacate the table for other customers if you take too long. Let's not forget your poor server who has to wait to go home until you leave as well as giving up the opportunity for more turnover that gives them more tips. Plugging in your laptop is also generally not ok, especially in busier restaurants.
A park

Working in a park on a sunny day sounds like the dream, right up until you're there. On a bench, you'll have to balance your laptop on your knees. On the grass, there's no sitting position that doesn't feel uncomfortable after 10 minutes, plus there could be ants or other bugs. The glare on your screen makes it annoying to see what you're working on, and where are the electrical outlets? Nadda. If you're looking for more practical outdoor work areas, check out some of your local coworking spaces which usually have a nice outdoor area to work until you decide to come back in.
A hotel lobby
Actually, this is an unexpected great idea. The lobbies of hotels provide an area for guests and their visitors to get some work done in a space that isn't their room, but like coffee shops, they're often intentionally designed to deter people from hanging around for too long. Designer chairs and tiny coffee tables make it difficult to get comfortable, spread out, and access to WiFi might be restricted to paying guests (it usually is).
A library

Their quiet and comfortable so you'd think your local library is a good alternative to working from home. Not only are libraries designed to be quiet, pleasant places to work, but they're usually free to access. The downsides? Your nearest library might be too far away to be convenient, and like any public space, it can get super busy. You won't be guaranteed a power outlet, and you might be unable to bring any food or drink with you.
A coworking workspace
Created with only one thing in mind, a shared workspace is an ideal solution for freelancers and remote workers looking for an alternative to home or the coffee shop. Coworking spaces provide distraction-free rooms, chairs, and desks you can comfortably work at for long periods of time, and all the power and room you need for your essentials.
Coworking spaces give you access to productive workspaces and meeting rooms equipped with all of your meeting essentials. You can book a day pass for a seat in a stylish workspace near to you, or reserve a meeting room by the hour for hosting clients in a professional setting. If you're concerned about missing out on your caffeine fix, don't worry, as we said- coworking locations provide unlimited coffee, along with fast and reliable WiFi.
We hope that helps narrow down your choices or gives you some insight on where you might work best. Not only are coworking spaces great for work but they also provide the best networking opportunities with tons of free seminars and training on things from monetizing on youtube to building an amazing website, like at Mesh Cowork in downtown Bakersfield, CA.