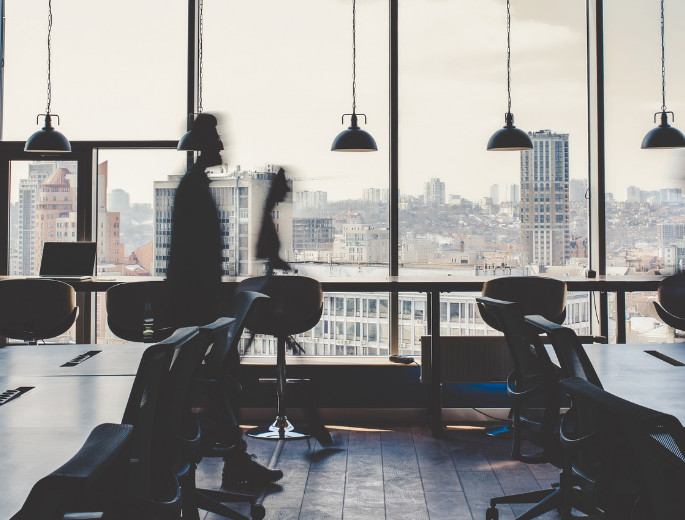 In the midst of a pandemic, the idea of coworking seems counterintuitive. When a 6 feet social distancing mandate is in place, you would think that working from home is the only available option for the foreseeable future.
Coworking and remote work were gaining popularity before the pandemic, but now the need for coworking spaces has suffered and spaces are struggling to provide safe desks, equipment and professional networking opportunities.
Coworking spaces have shifted and adapted to the new normal in smart and forward-thinking ways. Here's how coworking spaces are being redone in the age of COVID-19.
Going into the Office is Not What Workers Want Anymore
A report by MIT in April 2020 confirmed that 34% of Americans who previously commuted to work were staying home. Before COVID-19, the number of remote employees remained at 4%. Kate Lister, president of Global Workplace Analytics, predicts that 30% of people will continue this trend in the future.
"Once they've done it,
they're going to want to continue,"
-Kate Lister
COVID-19 has destroyed the employer's skepticism quickly, proving that remote work works. Lockdowns will eventually end, but this doesn't mean a return to the main office.
After months working from their kitchen table or small apartments, people are desperate to go somewhere to work. The idea of working in a coworking space is more attractive now than it has ever been.
Most companies plan on using a "hybrid model" where some of their employees work from home and the rest of the time, they'll need office space. Many employers are now offering to cover all or some of the expenses of these spaces to make it more feasible. Coworking spaces also help to accommodate office space in a wider variety of locations to show a diverse workforce. Also, if an employee was considering a move, they could do so and still keep their job. It can also be easily acquired and have better commute options than going to the corporate office.
Coworking contributes to the work-life balance as businesses are becoming more aware of the importance of work culture and flexibility. Instead of having just an office space, you'll have a workplace ecosystem. That means people may not go to a main office every day by default, but instead go there for more learning, networking, mentoring, and socializing. In other words, businesses still need office space, but they need it for different reasons than they used to. Offices for many will function as a welcome break from working from home, especially for people with roommates, children, or tiny apartments.
In fact, the pandemic has made such space more attractive.
"For corporate occupiers considering spacing needs, having flexibility is exactly what they would want because of things like this pandemic,"
-Paul Leonard, a managing consultant at CoStar Advisory Services
Steps to Keeping Your Coworking Space Up to Covid Standards
In the past, cleaning was something that happened in the background, mostly when people weren't using the space. Today, visible cleaning is a necessity in making members feel comfortable in a shared space. Members also feel comfortable doing some of the cleaning themselves much like gyms that remain open, such as wiping down the desks after they're finished.
"Anyone who manages an office environment, including flexible space providers, has been tasked with putting protocols in place to increase safety at work, such as air filtration, social distancing, enhanced cleaning, mask usage, etc." "As long as safety protocols are in place and followed, we don't see flexible space being different than other types of office space."
-CBRE's Whelan
Keep your coworking space clean and sanitized
Since the beginning of the pandemic, hygiene and sanitization of your home and businesses have become extremely important. Among those important places are coworking spaces which are vulnerable because of pre-eminent flexible work culture. Elevated risk in the office space automatically drives the greater responsibility of keeping the workplace clean and sanitized. Do it regularly by sanitizing and wiping the areas of touchpoints such as doorknobs, windows, desks, elevator buttons, biometric attendance machines, coffee/tea machines, printers etc. Also, it is smart to prepare your workplace for the next day well in advance by completely disinfecting the whole space after everyone has left the coworking premises.
Use a temperature taking system
Creating a disinfectant area or the use of temperature screening at the entrance of the coworking space will work great. Provide hand sanitizing faucets, surgical masks and tissues at all the busy places. Giving out healthy snacks and vitamin drinks will be a great amenity to attract more customers. If anyone in your building is sick, provide any help you can and advise them to work from home. Go the extra step and tell them to consult a nearby physician immediately. This will not only make your workspace safe but also make people feel secure and comfortable, which will indirectly motivate them to come and thrive in your coworking space every day.
Promote healthy social habits
Educate your coworkers by displaying posters that promote healthy social distancing practices such as stickers on the floor with accurate distance or arrows showing the preferred direction they should go through the space. Posters showing the use of a handkerchief or tissue while coughing and sneezing, avoid regular touching of eyes, mouth & nose. These posters should be present in notable places so that everyone sees them. Also, out together community events that motivate people to do yoga, respiratory exercises and basic cardio exercises, this will not only improve the immunity and physical health of your coworkers but also give your coworking space a good reputation in the coworking community. Go the extra step and offer virtual classes of those listed above.
Change up your floorplan
Some of the big coworking giants have devised plans to change the complete infrastructure of their coworking spaces, keeping in mind social distancing and to avoid overcrowding in the workspace. They even went as far as creating a completely outdoor facility full of comfortable seating and relaxing atmosphere. You can do the same by changing certain flexible desks and open lounges in such a way that both social distancing and a healthy working culture can be maintained in the coworking space. Of course, if you have budget constraints, you can still plan the best use of space by keeping in mind social distancing and avoid over-crowdedness by scheduling coworkers use as per their convenience/comfort suitable for their work. Also providing cubicles or small spaces where few people can work with social distancing will be a good strategy to make the best use of your resources.
You may also offer benefits like low pricing for an initial period, no commitment period and flexibility with spaces/timings. Go the extra step by taking a regular note of the mental and physical health of all the coworkers since this is one of the biggest issues we are facing right now. Maybe have a list of some trusted therapists or hotlines on hand if you ever see someone having a difficult time.
In Closing
We hope this helped you feel more comfortable using coworking spaces since they are all on top of the best safety protocols for their members, so that they can stay in business.
It truly can give you the structure you may be missing and a community even with social distancing guidelines.
Let us know if you're working in one during this pandemic below!