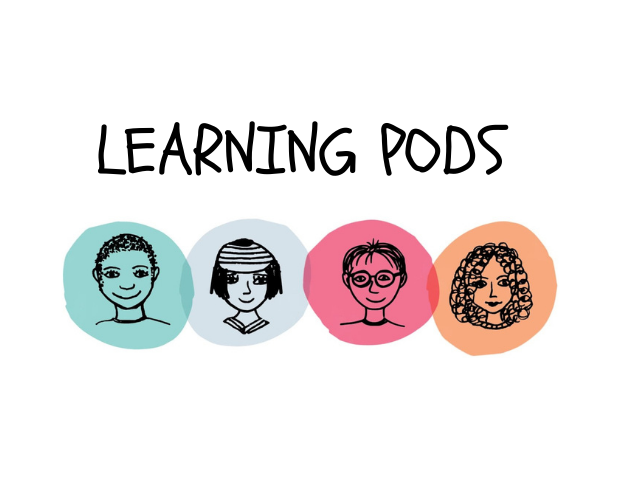 Why Learning Pods Can Change the Way Your Child Learns
Image from tutordoctor.com
We don't know if you've heard but Learning Pods, (aka Micro- Schools or Pandemic Schools), are making their way into our kid's lives just in time for all of their Zoom classes and online learning. With most schools across California shutting down in-person education this fall, some parents are scared their kids won't be getting the same quality and consistency of education as they have before. That's why groups of families and businesses in Bakersfield, CA are creating learning "pandemic pods" and "micro-schools" to teach and care for their children together.
There is an impending doom on both sides when it comes to learning from home. Parents have to keep their kids focused and help out on subjects that they haven't seen in years (or ever), and kids being overly distracted because they're at home and know all of their fun toys and friends are just a few steps away. Let's also not forget to mention the lack of socialization with their peers which can have lasting effects on their development.
What is a learning pod?
A place dedicated to learning, socializing, and exploring. *Parents silently rejoicing*. Learning pods are dedicated spaces that have unlimited wifi and staff on hand to help out with any questions and keeping them focused on their assignments. Learning pods also offer the potential for personalization. They've often been described as the modern version of a one-room schoolhouse, where everyone knows your name.
The Chicago Tribune described pods as "Equal parts traditional homeschooling and Mary Poppins-style nurturing — with a COVID-19 sheltering-in-place twist."


How long have learning pods been around?
This may shock you but they've actually been around for a while. Think more on the lines of homeschooling or private schools. QuantumCamp and Acton Academy were founded in 2009, and are two examples of early micro-school learning programs. Outschool was founded in 2015 to offer small group, live online classes for K-12 students. That same year, Education Next wrote about how "from San Francisco to Austin, Texas, to New York, new forms of schooling termed micro-schools are popping up."
Kids can start viewing it as their "new school" so they can get back to being on a schedule with that much-needed structure. The pandemic has obviously shaken things up for our tiny humans and we can't imagine how they are processing everything. This gives them the opportunity to be around other kids (only a small group of about 5-8), who are all healthy and practice social distancing rules. Who else benefits from this? The parents. A pod may gather for just 10-20 hours a week or only certain days so families may work independently the remainder of the time.
"For parents who need to work and can't supervise their children's learning, joining a pod may feel like the only way they can educate their kids and keep their jobs," Clara Totenberg Green, a social and emotional learning specialist in Atlanta Public Schools, wrote in an Op-Ed for The Times.
Benefits of Learning Pods
Kids actually help each other learn.

When you have a group of different ages and skillsets, they can help one another build from teaching to learning.
Their social skills are going to improve.

Smaller groups can feel less intimidating, so this is a great environment for your child to interact and create friendships.
You won't have to worry about them getting overlooked in a large class.

Many times, large classrooms can feel intimidating for your child to raise their hand to answer questions or be seen in a group project. Learning pods allow them to feel safe expressing their ideas and passions with others who can relate and appreciate them.
It's way more motivating than learning from home.

Kids love to mimic other behaviors, so when they see the other kids studying and staying focused, they are more likely to follow suit. Also, the instructors in the pod are there to celebrate their successes and that's a great way to boost their self-esteem. There is also a level of healthy competition among them when they see other students doing well.
The parents get time to do their own work or other pressing tasks

These times are just as stressful for the parents of these kids who desperately need to keep up with their schoolwork. This allows parents to focus on work and know that their kids are being well taken care of. Parent guilt is a real thing and learning pods can definitely relieve some of the stress.
Types of learning pods
Parents have two main types of pods to choose from: self-directed pod and learning support pod.
Self-Directed Pod
Self-directed pods are for families who want to pull their children out of their public, private, or charter schools. Parents, or the tutor, decide on the curriculum, create lesson plans, and teach the students. Parents take full responsibility for their kid's education since this is a form of homeschool. They must follow state laws for homeschooling. During the pandemic, many families use the term "micro-school" loosely. But they might really be referring to the learning support pod.
Learning Support Pod
Often called small-group learning, this is for students to complete individual online assignments for their public, private, or charter schools. Adults overseeing learning support pods might also supplement school learning with special projects or educational topics. However, the main schoolwork comes directly from the school the child is enrolled in.
Learning pods can be hosted in a variety of places from your local library, coworking space, or any location that will allow a small group to gather. If you're thinking of creating a pod, try reaching out to your school district to see if they will sponsor it to help with costs.
How much do learning pods cost?
Well, some can be completely free to create and design, while other families might spend hundreds of dollars each month. Both local communities and national organizations are working to support all families who wish to participate in micro-schools or pods. For example, the National Parents Union will be giving $200,000 in direct grants during August to parents and family-led organizations to support homeschool pods and micro-schools.
Lastly, there are some private school scholarship programs that help offset the cost of homeschooling. If your pod or micro-school is taking the homeschool track as described above, make sure to check out those links.
"A micro-school is not the right environment for every student, but there are students of all income levels who could potentially thrive in a micro-schools highly relational, personalized setting."
How to keep this way of learning safe during the pandemic
Follow all of your social distancing protocols

Have plenty of sanitation stations set up for entering, participating, and exiting the pod.

Communicate with families daily to check if there are any unusual symptoms that may be arising that point to potentially being sick with COVID-19

Communicate with all families to see if there are any family members at home who are high risk

Wear masks
In Closing
So maybe now you have a better understanding of what pods are and you can start seeing them as a temporary solution for your children's education until everything gets back to normal. COVID-19 has forced parents and educators to get creative with how they keep their students engaged, on track, and connected. When run successfully, learning pods create a sense of normalcy during the pandemic. MESH Cowork, located in downtown Bakersfield, CA, is beginning the initial stages of possibly starting one in our facility and your feedback would be much appreciated if this is something you would be interested in!
Stay safe out there!
---
MESH Cowork is located in Downtown Bakersfield, CA, and offers a variety of services from virtual and in-person coworking options. Coworking spaces are great for everyone from start-ups, entrepreneurs, creatives, employees, and even parents looking for a quiet place to work.
Check us out on our social media pages to follow along with all of our updates:

Instagram: @meshcowork
Twitter: @MeshCowork
Facebook: facebook.com/meshcowork