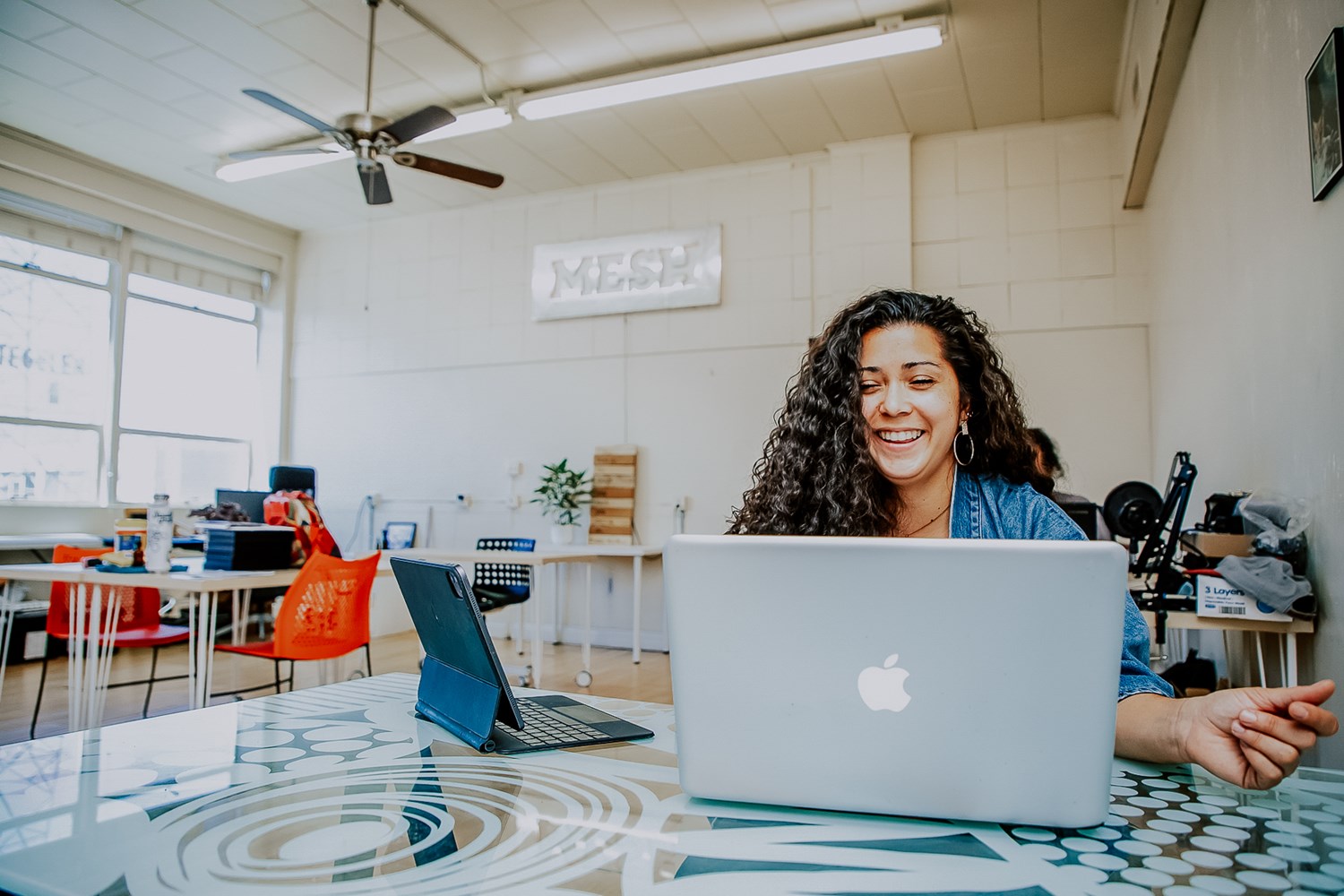 It's no wonder social media influencers love going to work at Mesh Cowork, where beautiful and flexible spaces come together to inspire and support members.
Overall, influencers have no physical office outside their homes, and many travel constantly. Influencers' work revolves around finding new and exciting ways to say their message to thousands of followers through a continuous stream of content. That can be very challenging with tons of work behind the scenes.
Finding a safe and flexible space where they can comfortably get things done like taking photos and video with all of the editing, discuss partnerships with potential and existing brands, and plan out their next steps is imperative for these content creators. Mesh Cowork serves as an ideal solution, providing them a workspace where and when they want, with the trademark amenities and features Mesh Cowork is known for.
Here are some reasons influencers say they love Mesh Cowork.
There's always a nice space to stay focused and organized
Working in a clean and organized space can help boost productivity by giving people a beautiful space to look at and many options for keeping things organized. Coworking spaces scream productivity by being around so many other professionals, so it's definitely contagious.
Photo by @joykamelphoto⁠
It promotes a healthy boundary of work life and home life
Living, working, and learning within the confines of home during the pandemic has been tremendously challenging for most of us. Dana Lastrilla, a fashion and lifestyle influencer, felt the stress.
"As much as it's been a blessing to spend quality time with Natalia [my daughter] at home, there have also definitely been challenges with keeping calm and getting the job done with a toddler eager for all my attention."
Mesh Cowork allows members to use both locations in Bakersfield, CA, and keep home and work life separate by going to a space free from the distractions at home.
There's no excuse not to be productive
All Mesh Cowork spaces are thoughtfully designed to maximize productivity. Every detail is taken into account from lighting to seating to create the best workspace. These details pay off in a big way. On top of that, you're now away from most distractions that come with being at home like Netflix, your animals, kids, laundry, the list goes on! While being at home is useful at times, most people can agree that getting away from their normal space is refreshing and inspirational for new ideas. Let's not forget, most coworking spaces like Mesh Cowork have unlimited beverages like coffee, tea, and water so you can stay caffeinated and hydrated.
The flexibility is unparalleled
Mesh Cowork offers flexible workspaces to members with various workspace types (hot desks, lounges, outdoor spaces, and more) in their buildings. Mesh Cowork gives you the luxury & freedom of having a space free from distractions, when and where you want, and the resources available rival even the most well-equipped home office. Not only that but it's conveniently located in the exciting downtown area, so you have tons of eating and entertainment options to fill your day and photoshoots- maybe even a coffee selfie!
It's a natural place to network
The benefits of collaborative office space are useful and amazing, even for solo workers. You're naturally around so many other people so being surrounded by other professionals in the same industry, and in different ones, makes networking easy and fun. Plus there's usually a ton of events like Bakersfield Startup for Bakersfield entrepreneurs, WordPress Wednesday to learn about WordPress features virtually, and last but not least, a monthly Community Lunch where lunch is provided and everyone is now meeting in person to talk about anything and everything while making new friends.
Photo of @charizma.co