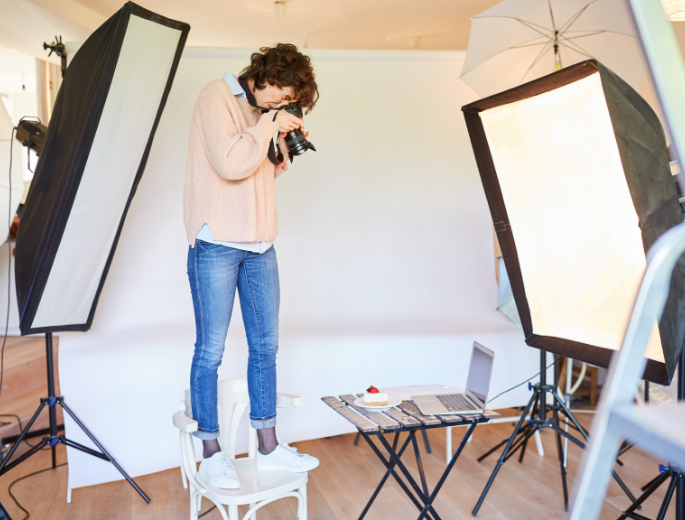 This week we wanted to touch on a subject that is becoming increasingly relevant due to the majority of our workforce becoming freelancers or remote workers. One industry, in particular, is photography.
In the photography industry, having a studio looks like success in most client's eyes. The thing is, typical photographers would rather spend their money on gear, than a studio they would probably only use a few times a month. Recently there's been an abundance of places for people to meet with clients as well as have their own out of home office.
Speaking from experience, the life of a creative sets no physical structure for our workflow. We commonly work all day a few hours here and there or we save all of our work till the wee hours of the morning and painfully regret it the next day as we grab coffee number three. The silver lining? We always get our work done! Being a creative is one of the most rewarding jobs, but we are commonly referred to as "lazy" or "disorganized". There are some that can manage the chaos of which this career brings, but there are still some of us who lack that drive. Insert Coworking Spaces. This is no new phenomenon, freelancers have been using them for years but now, more than ever, people are forced to make things happen out of the office.
Coworking spaces aren't just for startups
Yes, you read that right. While they are known to host a variety of startups as well as entrepreneurs or remote employees, coworking spaces offer multiple uses for freelance photographers. Mortgages on small office spaces may not be realistic right now or even a contract for a long period of time. Sick of buying printer ink? Paying for electricity? Heck, making or grabbing coffee before work? Coworking spaces provide it all. As a freelance photographer, all your extra funds are put into buying cameras, equipment, and software subscriptions. If you want non-essential amenities like a printer, copier, ergonomic chair, or professional meeting space, you have to cut into your funds. Bonus? The majority of coworking spaces offer month-to-month options with no contracts, so you never feel trapped.
For those thinking, "why can't I just work from my couch on editing days", the answer is the environment. After the first few months, working alone starts to get to you.
Coworking spaces give you an energetic work atmosphere and make even those tedious hours of editing one photo after the other, refreshing.
And if you choose a shared workplace that is expressly designed for freelancers and creative professionals, the environment is also inspirational, creating a positive impact on your work.
Did we mention the various distractions that come with working from home? While some people work well with Netflix playing in the background, there's bound to be a scene that draws you in and puts your work on the back burner for a few hours.
Coworking spaces offer networking opportunities
The motto of a coworking space is the community, so members can actively help each other. For a freelance photographer, this is important because you can get valuable feedback on your work and learn more skills. There is also the potential to pick up new clients. The livelihood of all freelancers come from word of mouth referrals and there is no better place to spread awareness and get references than a coworking space. Given the number of people who work in coworking spaces, you are exposed not only to more potential clients but also a variety of them. Most coworking spaces are full of startups and entrepreneurs looking for marketing material, so these opportunities are literally a couple of conversations away.
Add in the events shared workplaces host, the chances to network and grow your client list expands even further. Lastly, you could also have the chance to become the official in-house photographer. Any event that occurs within the company, means more money for you.
Working from home guarantees that you are isolated. After some time, your work starts to suffer because the human interaction tapers down. You are always surrounded by people who are respectful of your needs which means, when you want to mingle with other members, you sit in the lounge area and when you need to focus, you have the option of a private office or a dedicated desk.
Another thing to keep in mind, with the current pandemic, coworking spaces are prepared for any and all scenarios by spacing the desks accordingly and have bottomless hand sanitizer at every station for your safety. Worried about not being able to network? Most places have turned all of their events into a virtual one, so that can help curb some anxiety with talking to new people.
Other perks of having a coworking space?
You have work hours now.
If you want a certain number of hours to work outside the home just for client consults, this is an amazing solution. To be able to tell clients "I am always in my office on Mondays, so if you need anything just give me a call and you can come by, " gives your clients a sense of you no longer being this mythological person that took a $1,000 deposit and they don't really know you exist. Besides consults, now you have a place to display your work as an art gallery when you opt-in for a private office.
You can set up all of your equipment there.
Let's face it, not all of us are blessed with a huge space to set up our lights and equipment as well as a nice desk and seating arrangement for editing. Storage space alone may be sparse and not having all of the distractions that come from working from home, can be refreshing. This even gives you the opportunity to display some of your best prints so that you can wow them without having to say anything.
Let your coffee addiction rage.
Coworking spaces are known for having free beverages from coffee, tea, and water, so you're covered for all of your hydrating/caffeinating needs. Also, most are located in hot spots, so there are plenty of places within walking distance if you feel like some hot lunch.
Lightning-fast wifi.
Wi-Fi is great for any important zoom calls you may have with clients or potential clients. Nothing is worse than a dropped call when talking about money and details.
In closing
We hope we opened your eyes to the possibility of using coworking spaces to become more productive with whatever project you have going on and we wish you all the best in this new year!
Comment below if you're considering one!